Yard Hours: Monday-Friday 7:30AM-3:30PM
Travel Lift - 40 ton remote control lift with 4 point lift system and 4WD. New Travel Lift ramps installed 2020!

Paint Barn - 65' heated paint barn with filtered air intakes and outflow

Carpentry Shop - fully equipped for everything from wooden boat restoration & building to custom cabinetry

Mechanic Shop - Yanmar Gold Dealer for repowering and repairs to all makes of gasoline and diesel engines, plumbing and electrical repairs. All repairs made to ABYC specifications.

Launch Ramp - for trailered vessels, with floating dock approach open 24/7 with honor box. $5 fee in and out.

Adjacent to all the Marina Amenities including The Shack Restaurant, pool, and close to Ship's Store
After reviewing with our insurance carrier, lawyers, EPA, OSHA and Virginia Clean Marinas, we have finalized new boatyard rules here at Yankee Point. These are subject to changes, and we will notify you in the event of a change in policy.
LADDERS
During our OSHA review, ladders and scaffolding were identified as a major liability issue and we have established new policies for using such. Please read items 18-20 in the DIY Rules; a copy of the required waiver is here:
Dry storage areas are all above MLW by 20' - in the event of a storm surge, your stands will not wash out. Your boat will be as safe as it can be no matter what the weather. Serviced by a 40-ton Travelift and 30-ton hydraulic trailer, Yankee Point can accommodate up to 180 boats.
We can accommodate any type of paint job in our 65' paint barn. Our primary paint of choice is AwlGrip by spray application but we can apply any paint by any approved method. .
If your boat has anything from ugly spider cracks to serious structural damage, Yankee Point Marina's technicians can make it like new.
Yankee Point Marina is an Authorized Yanmar Gold dealer for our area. We provide free written estimates and will not be undersold by any other authorized dealer. We have experience with the old as well as new gas and diesel engines and can provide any service needed to make repairs or repower as you direct. Our work is done in compliance with all ABYC specifications.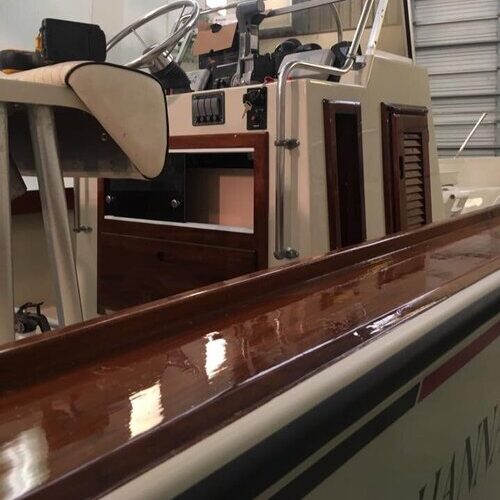 We can provide a Bristol finish for any brightwork. We use all of the established varnishes as well as Awl Wood™ products.
We can handle any plumbing system that you can throw at us. We have replaced thousands of seacocks and more importantly ball valves that could have failed and no doubt prevented many catastrophes at sea. Come see us and let us make your system right. All work is done to ABYC standards.
Peeling

Barrier Coating

Bottom Painting

Certified applicator for Copper Coat
Wooden Boat Repairs & Rebuilds
Our wood shop has all of the tools needed to do anything from wooden mast rebuilding (a truly vanishing art), to boat building and repairs, to fine cabinetry design, construction and refinishing. If it is made with wood, we can do it. We provide free written estimates upon request. Give us a try, you won't regret it.
Sandblast to remove all existing bottom paint.
Yankee Point Marina is a Garmin Dealer and a NMEA Member with a NMEA Certified Installer. We have experience with all brands of electronics and can pretty much do anything you need done to your system. Being a Restoration Boatyard, our electricians have had the opportunity to unscrambled countless electrical nightmares and turn them into logical, well ordered and labelled systems probably saving lives. All work is performed to ABYC specifications and is warranted by Yankee Point Marina.
Yankee Point Marina provides detailing services on an hourly basis or by firm written estimates. Knowing where the dirt hides is a key to fine detailing. If it is at all possible, when we do the work, your boat will be as clean and shiny as she was when she came off the show room floor.
Many rigging issues are easily handled if you have the knowledge and experience to know what works and what does not. Our riggers have that experience. For major work we have long developed relationships with the best independent riggers in the area. We are very competitive and can provide solutions to even the most complex issues.